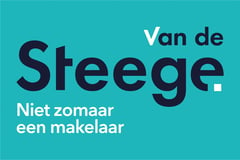 Van de Steege Bedrijfsmakelaars
Begeleiden bij verhuur en/of verkoop van uw zakelijke huisvesting.
About us
"Ieder mens verdient een fijne plek op aarde. Een plek die zij thuis of werk mogen noemen. Wij helpen mensen, professioneel en met gebruik van vooruitstrevende technologie, bij het vinden, verkrijgen, creëren en vervreemden van die plek."
Dit is onze missie! Want er is maar weinig zo belangrijk als een dak boven je hoofd of werkplek. Bij Van De Steege zijn wij ons ervan bewust, dat we dagelijks bezig zijn met levensbeslissingen van mensen. Wij zorgen ervoor dat men terugkijkt op een zorgeloos proces én streven altijd naar een goede beoordeling van de klant.
Vanuit kantoren in en om de stad en met een enorme groep van enthousiaste mensen, zijn wij dagelijks super gemotiveerd bezig met het helpen van mensen. Bij het verkopen of verhuren van woningen en/ of bedrijfspanden. De verschillende specialismen houden wij gescheiden, dus u heeft altijd te maken met een professional!
En die professionals;
- Leggen de lat enorm hoog
- Zijn ontzettend gepassioneerd en zien makelen als een "kunst"
- Zijn vindingrijk en omarmen innovatie
Specialisatie Bedrijfsmakelaardij
G7 Van de Steege is een zelfstandige organisatie binnen onze makelaarsgroep. Met acht professionele bedrijfsmakelaars én jarenlange ervaring begeleiden we kleine en grote ondernemers bij o.a. het vinden, vervreemden en/ of beheren van geschikte bedrijfshuisvesting.
Schakel niet zomaar een bedrijfsmakelaar in, schakel G7 Van De Steege in!
What we do
Aanbod BOG

Bedrijfspanden, Kantoorpanden and Winkelpanden

Dienstverlening

Verkoop, Aankoop, Verhuur and Taxaties

Specialisme

Bedrijfsonroerend goed
Buikslotermeerplein 418,
1025 WP Amsterdam
Today opened until 17:30, available by phone until 17:30
All contact details
Reviews
Van de Steege Makelaar te Amsterdam, Prima Makelaar, altijd bereikbaar, of belt direct terug. ter zake kundig, en goed op de hoogte van alle ins en ou...
97
Sale
In the past 2 years, 3 clients wrote a review about this agent:
9.7

Knowledge of the local market

10

Expertise

9.7

Service and support

9.3

Price/quality
All reviews (

3

)
Transactions (past 12 months)
48
commercial properties sold or rented out
0
commercial properties purchased or rented
Sold and rented out
Contact
Visiting address
Buikslotermeerplein 418
1025 WP Amsterdam
Mailing address
Postbus 36019
1020 MA Amsterdam
Opening hours
Monday

Mon

8:30 - 17:30

Tuesday

Tue

8:30 - 17:30

Wednesday

Wed

8:30 - 17:30

Thursday

Thu

8:30 - 17:30

Friday

Fri

8:30 - 17:30

Saturday

Sat

Closed

Sunday

Sun

Closed
Calling hours
Monday

Mon

8:30 - 17:30

Tuesday

Tue

8:30 - 17:30

Wednesday

Wed

8:30 - 17:30

Thursday

Thu

8:30 - 17:30

Friday

Fri

8:30 - 17:30

Saturday

Sat

Unavailable

Sunday

Sun

Unavailable
Error while loading the page. Please try again.