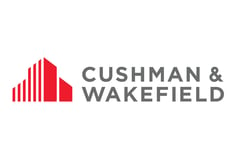 Cushman & Wakefield Arnhem
Cushman & Wakefield is wereldwijd toonaangevend adviseur in commercieel vastgoed
About us
Over Cushman & Wakefield
Cushman & Wakefield is wereldwijd toonaangevend adviseur in commercieel vastgoed. De organisatie begeleidt opdrachtgevers in de transformatie van de manier waarop mensen werken, winkelen en leven. In Nederland is Cushman & Wakefield marktleider en telt 500 medewerkers die vanuit 10 kantoren actief zijn voor banken, institutionele en particuliere beleggers, ontwikkelaars en gebruikers van commercieel vastgoed. Wereldwijd telt de organisatie 45.000 medewerkers in meer dan 70 landen en een omzet van $6 miljard. De activiteiten bestaan onder meer uit aan- en verhuur en aan- en verkoop van commercieel vastgoed, beheer en asset management, vastgoedbeleggingen, taxaties en waarderingsadvies. 2017 markeert het 100-jarig bestaan van Cushman & Wakefield. 100 jaar waarin we de ideeën van onze opdrachtgevers tot uitvoering brachten. Meer informatie vindt u op www.cushmanwakefield.nl en via Twitter @CushWakeNLD.

About Cushman & Wakefield
Cushman & Wakefield is a leading global real estate services firm that helps clients transform the way people work, shop, and live. Our 45,000 employees in more than 70 countries help investors and occupiers optimize the value of their real estate by combining our global perspective and deep local knowledge with an impressive platform of real estate solutions. Cushman & Wakefield is among the largest commercial real estate services firms with revenue of $6 billion across core services of agency leasing, asset services, buying and selling, capital markets, facility services (C&W Services), global occupier services, investment & asset management (DTZ Investors), project & development services, tenant representation, and valuation & advisory. 2017 marks the 100-year anniversary of the Cushman & Wakefield brand. 100 years of taking our clients´ ideas and putting them into action. To learn more, visit www.cushmanwakefield.nl or follow @CushWakeNLD on Twitter.
What we do
Aan- en verhuur

Bedrijfsonroerend Goed

Aan- en verkoop

Bedrijfsonroerend Goed

Beleggingen

Aan-/verhuur, aan-/verkoop, advies

Taxaties

Bedrijfsmatig Vastgoed. and Commercieel onroerend goed

Consultancy

Bedrijfsmatig onroerend goed

Aanbod

Bedrijfspanden, Kantoorpanden, Bedrijfsonroerend goed and Nieuwbouw
Meander 601,
6825 ME Arnhem
Today opened until 18:00, available by phone until 18:00
All contact details

Contact
Visiting address
Meander 601
6825 ME Arnhem
Mailing address
Postbus 573
6800 AN Arnhem
Opening hours
Monday

Mon

8:30 - 18:00

Tuesday

Tue

8:30 - 18:00

Wednesday

Wed

8:30 - 18:00

Thursday

Thu

8:30 - 18:00

Friday

Fri

8:30 - 18:00

Saturday

Sat

Closed

Sunday

Sun

Closed
Calling hours
Monday

Mon

8:30 - 18:00

Tuesday

Tue

8:30 - 18:00

Wednesday

Wed

8:30 - 18:00

Thursday

Thu

8:30 - 18:00

Friday

Fri

8:30 - 18:00

Saturday

Sat

Unavailable

Sunday

Sun

Unavailable