Lamberink Bedrijfsmakelaars
Partner in Dynamis. Regionale kennis en landelijk netwerk.
About us
Bedrijfshuisvesting?
Lamberink maakt er werk van.
Een bedrijfspand succesvol verhuren of verkopen vraagt om een bedrijfsmakelaar die er werk van maakt.
Netwerk
Lamberink Bedrijfsmakelaars is niet alleen een lokale speler, maar heeft met 8 vestigingen ook een sterk regionaal netwerk dat heel Noord-Nederland omspant.
Daarnaast bieden we ook landelijke dekking als partner in Dynamis.
Denkwerk
Een bedrijfspand succesvol verkopen of verhuren begint vaak met rustig nadenken. Voor welke gebruiker zou dit een ideaal pand zijn. Niet altijd bieden voor de hand liggende oplossingen uitkomst. Juist met creatief out-of-the-box denken bereiken we vaak spraakmakende resultaten.
Maatwerk
Wij denken met u mee in uw zoektocht naar een nieuw onderkomen. Voor ieder bedrijf ligt het weer anders. Locatie, indeling, grootte, een bedrijfspand dat past bij uw onderneming en toekomstplannen vraagt om maatwerk.
Teamwerk
Samenwerking leidt altijd tot het beste resultaat. U heeft 1 vaste makelaar. Binnen ons team heeft echter iedere bedrijfsmakelaar zijn/haar eigen specialisme en werken we nauw samen om ook bij complexe opdrachten u zo optimaal mogelijk te begeleiden.
Werkgebied
Lamberink is met 8 vestigingen actief in de provincies Groningen, Friesland, Drenthe en Noordoost-Overijssel. De bedrijfsmakelaardij wordt gecoordineerd vanuit 3 regiokantoren in Groningen, Assen en Emmen.
Lamberink Bedrijfsmakelaars
Groningen, Westerkade 1, 9718 AN Groningen. Tel. (050) 367 20 28
Noord-Drenthe/Friesland, Javastraat 10-18, 9401 KZ Assen. Tel. (0592) 33 84 20
Zuid Drenthe/N-O Overijssel, Hoofdstraat 150, 7811 EW Emmen. Tel. (0591) 65 33 55
Wilt u meer weten over onze dienstverlening? We staan u met plezier te woord.
What we do
Diensten bedrijfsmakelaardij

Allround dienstverlening van ervaren professionals

Aanbod

Kantoren,bedrijfspanden en winkels

Specialisme

Taxaties

Lid van

Partner in Dynamis, NVM and RICS

Gecertificeerd

VastgoedCert

Doelgroepen

Ondernemers, beleggers, particulieren

Website

Www.lamberinkbedrijfsmakelaars.nl
Javastraat 10 -18,
9401 KZ Assen
Today opened until 17:30, available by phone until 17:30
All contact details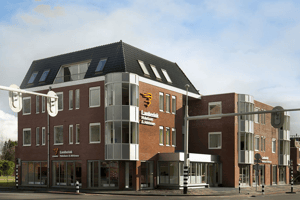 Transactions (past 12 months)
52
commercial properties sold or rented out
0
commercial properties purchased or rented
Sold and rented out
Contact
Visiting address
Javastraat 10 -18
9401 KZ Assen
Mailing address
Postbus 993
9400 AZ Assen
Opening hours
Monday

Mon

8:45 - 17:30

Tuesday

Tue

8:45 - 17:30

Wednesday

Wed

8:45 - 17:30

Thursday

Thu

8:45 - 17:30

Friday

Fri

8:45 - 17:30

Saturday

Sat

Closed

Sunday

Sun

Closed
Calling hours
Monday

Mon

8:45 - 17:30

Tuesday

Tue

8:45 - 17:30

Wednesday

Wed

8:45 - 17:30

Thursday

Thu

8:45 - 17:30

Friday

Fri

8:45 - 17:30

Saturday

Sat

Unavailable

Sunday

Sun

Unavailable