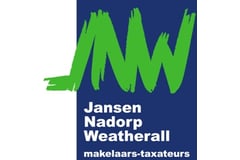 Jansen Nadorp Weatherall makelaars-taxateurs
uw professionele dienstverlener gespecialiseerd in commercieel onroerend goed
About us
Jansen Nadorp Weatherall is een professionele dienstverlener en is gespecialiseerd in taxaties en onteigeningen, evenals in bemiddeling bij commercieel onroerend goed en beleggingen.

Gedegen vakkennis, zorgvuldigheid, discretie en ruime ervaring vormen de basis van onze werkwijze.

Als onafhankelijke, beëdigde en gecertificeerde taxateurs met een brede expertise verzorgen wij gedegen, duidelijke en betrouwbare rapporten.
Als ondernemende makelaar/taxateur kijken we verder dan alleen naar onroerend goed. We bieden heldere huisvestingsanalyses en maken marktaanbod inzichtelijk, waarbij ook verborgen beschikbaarheid meegenomen wordt. In overleg met u maken wij een programma van eisen en aan de hand hiervan analyseren we de mogelijkheden en beperkingen die de markt u biedt.
Wij kunnen eveneens gecertificeerde bedrijfstaxatierapporten uitbrengen volgens de TMI standaard. Dit taxatiesysteem is RICS Red Book en IVS/IFRS proof. De rapporten worden door (in principe) alle banken geaccepteerd.

U kiest met ons voor een businesspartner die meedenkt met de ontwikkeling van uw onderneming.
Ons team heeft ruim 150 jaar ervaring in onroerend goed.
What we do
Diensten

Taxaties, consultancy, beleggingen, aankoop, verkoop, aanhuur, verhuur and van bedrijfsruimten, kantoorruimten en retail
Schiefbaanstraat 29,
2596 RC Den Haag
Today opened until 17:30, available by phone until 17:30
All contact details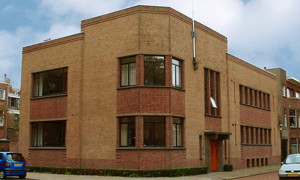 Transactions (past 12 months)
22
commercial properties sold or rented out
0
commercial properties purchased or rented
Sold and rented out
Contact
Visiting address
Schiefbaanstraat 29
2596 RC Den Haag
Mailing address
Postbus 18526
2502 EM 's-Gravenhage
Opening hours
Monday

Mon

9:00 - 17:30

Tuesday

Tue

9:00 - 17:30

Wednesday

Wed

9:00 - 17:30

Thursday

Thu

9:00 - 17:30

Friday

Fri

9:00 - 17:30

Saturday

Sat

Closed

Sunday

Sun

Closed
At this office, you can also make appointments for viewings outside these opening hours.
Calling hours
Monday

Mon

9:00 - 17:30

Tuesday

Tue

9:00 - 17:30

Wednesday

Wed

9:00 - 17:30

Thursday

Thu

9:00 - 17:30

Friday

Fri

9:00 - 17:30

Saturday

Sat

Unavailable

Sunday

Sun

Unavailable