Jongewaard Heemskerk NVM Makelaars
Uw lid van de G7 bedrijfsmakelaarsgroep. RT taxateurs, TMI gecertificeerd.
About us
Op 1 september 2001 zijn de kantoren P.J. Bosch Makelaardij B.V. en VBO makelaarskantoor Jongewaard & Jongewaard samengegaan onder de naam "Jongewaard Meijer Jongewaard NVM Makelaars"en hebben wij ons destijds gevestigd aan de Middenwg 168B te Den Helder, dit was voor een periode van 5 jaar.
Dankzij deze samenwerking zijn wij in staat geweest onze dienstverlening verder te optimaliseren, of het nu gaat om particulier of zakelijk onroerend goed. Deze vergrote deskundigheid komt ook tot uitdrukking in het complete dienstenpakket dat wij u kunnen aanbieden, met daarin onder meer onze bemiddeling bij koop en verkoop, de huur en verhuur van onroerende zaken, het beheer en taxaties. Verder onderscheiden we ons al jarenlang van andere makelaars door:
- luisterend oor
- duideljke afspraken vooraf
- degelijk advies
- begrijpelijke taal
Doordat we zijn aangesloten bij de NVM, bent u verzekerd van een deskundig, onafhankelijk advies.
In 2003 hebben wij ons aangesloten wij de G7 bedrijfsmakelaarsgroep, de G7 is een coalitie van 8 Noord-Hollandse bedrijfsmakelaars welke door haar deskundigheid, betrouwbaarheid en haar regionale samenwerkingsverband een ijzersterke partner is in commercieel onroerend goed.
Per 1 november is onze naam veranderd in Jongewaard Meijer NVM Makelaars. Onze samenstelling op kantoor bleef gelijk, net als het adres, telefoonnummer etc. Per 1 november 2004 zijn wij verhuisd naar Middenweg 159A, ons kantoor bevindt zich naast de Woningstichting en tegenover gerechtsdeurwaarderskantoor Vermeer Schutte & Musen B.V..
Op 20 oktober 2017 is onze naam gewijzigd in Jongewaard Heemskerk NVM Makelaars, vertrouwd team, vertrouwde service maar andere naam!
What we do
Lid van

NVM, G7 bedrijfsmakelaarsgroep, VastgoedCert, TMI gecertificeerd and RT/NRVT Taxateurs

Specialismen

Bemiddeling in (Aan) en Verhuur, Bemiddeling in (Aan) en Verkoop, Bedrijfshuisvesting, TMI gecertificeerd and Taxaties

website

Www.jongewaardheemskerk.nl
Middenweg 159 a,
1782 BE Den Helder
Today opened until 17:30, available by phone until 17:30
All contact details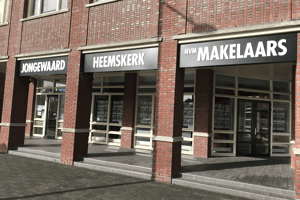 Transactions (past 12 months)
41
commercial properties sold or rented out
0
commercial properties purchased or rented
Sold and rented out
Contact
Visiting and mailing address
Middenweg 159 a
1782 BE Den Helder
Opening hours
Monday

Mon

9:00 - 17:30

Tuesday

Tue

9:00 - 17:30

Wednesday

Wed

9:00 - 17:30

Thursday

Thu

9:00 - 17:30

Friday

Fri

9:00 - 17:30

Saturday

Sat

By appointment

Sunday

Sun

Closed
At this office, you can also make appointments for viewings outside these opening hours.
Calling hours
Monday

Mon

9:00 - 17:30

Tuesday

Tue

9:00 - 17:30

Wednesday

Wed

9:00 - 17:30

Thursday

Thu

9:00 - 17:30

Friday

Fri

9:00 - 17:30

Saturday

Sat

Unavailable

Sunday

Sun

Unavailable