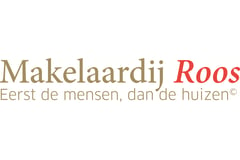 Makelaardij Roos
Eerst de mensen, dan de huizen.
About us
"Wij zetten onze kennis en ervaring graag voor u in"
Ons kantoor was het eerste makelaarskantoor dat zich vestigde in Noordoost-Friesland. Wij zijn dankbaar en trots dat we dankzij u ook het grootste kantoor van de regio zijn.

Onze klanten beschrijven Makelaardij Roos als een integer, vakkundig en betrouwbaar makelaarskantoor. Wij zetten al jaren onze kennis en ervaring in om u zo goed mogelijk van dienst te kunnen zijn en blijven dat graag met veel enthousiasme doen.

Historisch Dokkum
U vindt ons makelaarskantoor in de historische en bruisende binnenstad van Dokkum. In onze twee monumentale, aan elkaar grenzende panden, staat de koffie altijd voor u klaar.

Werkzaam op de Wadden
Naast Dokkum en de dorpen daar omheen, zijn wij ook werkzaam op twee Waddeneilanden: Schiermonnikoog en Ameland.

Naamsbekendheid
Onze naamsbekendheid strekt zich uit tot ver buiten Noordoost-Friesland en hebben wij te danken aan de manier waarop wij werken: integer, vakkundig en betrouwbaar.

Specialisaties
U kunt bij ons terecht voor de verkoop en/of aankoop van zowel woningen, bedrijfsonroerendgoed als recreatieobjecten, maar ook voor nieuwbouw en kavels.

Onze NVM-Makelaars zijn gespecialiseerd in:
- Bedrijfsonroerendgoed;
- Recreatiewoningen, met name op Schiermonnikoog en Ameland;
- Taxeren woningen/bedrijfspanden (NWWI, Bijzonder Beheer).
Lid van de NVM
Wij zijn lid van de Nederlandse Vereniging van Makelaars (NVM) en aangesloten bij de sectie Wonen en Bedrijfsmatig Vastgoed.

Dienstverlening
Voor de verkoop/verhuur van uw pand komen wij graag vrijblijvend bij u langs om u te adviseren en onze dienstverlening met u door te nemen.

Belangrijk in de uitoefening van ons beroep is dat u centraal staat in onze dienstverlening, want daar gaat het om.

Eerst de mensen, dan de huizen.
What we do
Aanbod

Woningen, Appartementen, BOG, nieuwbouw, recreatie

Bedrijfs onroerend goed

Koop/verkoop/huur/verhuur/taxaties

Certificering

NVM makelaar, register makelaar-taxateur en gecert and NWWI

Diensten

Verkoop, aankoop en taxatie.

Facebook

Www.facebook.com/MakelaardijRoos

Gebied

Dokkum e.o./Schiermonnikoog/Ameland
Aalsumerpoort 6 -8,
9101 JL Dokkum
Today opened until 17:30, available by phone until 17:30
All contact details
Reviews
Het contact verliep goed. De situatie in dit geval was zodanig complex waardoor het geen eenvoudige verkoop situatie was voor de makelaar. De situatie...
Error while loading the page. Please try again.