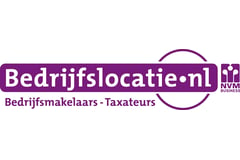 Bedrijfslocatie.NL Bedrijfsmakelaars Taxateurs
Bedrijfsmakelaars | Taxateurs | Bedrijfs onroerend goed
About us
Bedrijfslocatie.nl Bedrijfsmakelaars Taxateurs Bedrijfsmatig Vastgoed
Bedrijfslocatie.nl biedt alle diensten op het gebied van winkels, winkel / woonhuizen, kantoren, bedrijfshallen, beleggingen, winkelcentra, horecaobjecten, recreatiegebieden, loodsen, bouwgrond, weilanden, boerderijen en zakelijke rechten. Kennis van wetgeving, milieuaspecten, bestemmingsplannen en planologische ontwikkelingen is daarbij vanzelfsprekend.
Bedrijfslocatie.nl heeft een team van beëdigde Bedrijfsmakelaars– Taxateurs die lid zijn van NVM Bedrijfs Onroerend Goed (BOG). De bedrijfsmakelaars zijn gecertificeerd bij de Stichting VastgoedCert als Register Makelaar-Taxateur kamers Bedrijfsmatig Vastgoed en MKB / Wonen.
Bedrijfslocatie.nl is aangesloten op het netwerk van de NVM, FundaInBusiness, PropertyNL, Vastgoedmarkt, Locatus en het Kadaster en biedt daarmee de meest uitgebreide marktinformatie en promotiemogelijkheden voor Bedrijfs Onroerend Goed.
Voor informatie over verhuur, verkoop, aanhuur, aankoop, taxaties, financieringen en overig advies over Bedrijfs Onroerend Goed kunt u contact opnemen met bedrijfsmakelaars Giel van der Schaaf en ArieJan van der Schaaf.
What we do
Makelaar

Bedrijfsonroerend goed

Doelgroepen

Beleggers, Verhuurders, bedrijfsonroerend goed, produktierechten., Bedrijven/Semi overheden and bestaande bouw, huur

Full service

Persoonlijke en complete dienstverlening

Aanbod

Bedrijfspanden, Kantoorpanden, Winkelpanden, Bedrijfsonroerend goed and Nieuwbouw

Lid van

NVM, VastgoedCert, NVM Business, Nederlandse Vereniging van Makelaars NVM and NWWI
Oudeweg 8 E,
2031 CC Haarlem
Today opened until 17:30, available by phone until 17:00
All contact details
Reviews
De service is uitstekend, alles verloopt heel prettig, snel en constructief. Het is een feest om met Bedrijfslocatie nl samen te werken.
Error while loading the page. Please try again.