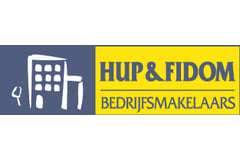 Hup & Fidom Bedrijfsmakelaars
Garantie voor volle tevredenheid!
About us
Bedrijfsmakelaardij: een vak apart
Hup & Fidom is een diep gewortelde naam in de regio waar gaat om vastgoed. Het specialisme van het kantoor lag voornamelijk bij koop/verkoop van bestaande woningen waar de afgelopen jaren nieuwbouw is bijgekomen. Zonder echt actief te zijn geweest in het zakelijke marktsegment werd Hup & Fidom regelmatig door bestaande relaties ingeschakeld voor advies, taxaties, koop/verkoop en huur/verhuur van zakelijk onroerendgoed. Hup & Fidom hanteerd altijd de stelling wie komt en waar we kunnen doen we dit zo goed als mogelijk en als wij geen toegevoegde waarde hadden werden de mensen doorverwezen.
Achter de schermen bij Hup & Fidom gebeurde er meer op het gebied van zakelijk vastgoed dan het straatbeeld deed vermoeden. Daarom heeft de directie van Hup & Fidom er voor gekozen om haar zakelijke dienstverlening te bundelen in Hup & Fidom Bedrijfsmakelaars.
Binnen ons kantoor neemt de heer N. Hospers de werkzaamheden voor zijn rekening. De afgelopen jaren heeft hij ruime ervaring opgedaan op het gebied van o.a. huur/verhuur, koop/verkoop, taxaties en advisering. De heer Hospers is sinds 1998 werkzaam binnen ons kantoor en sinds 2005 firmant van Hup & Fidom. De Hoogeveense markt is voor hem bekend terrein en vanwege o.a. zijn jarenlange werkzaamheden binnen de bouwnijverheid heeft hij een uitgebreid netwerk opgebouwd in de regio.
U kunt altijd vrijblijvend contact opnemen voor advies op het gebied van zakelijkvastgoed,
uiteraard bent u ook altijd welkom op het kantoor aan het Haagje 147, te Hoogeveen.
Hup & Fidom Bedrijfsmakelaars houdt zich ondermeer actief bezig met:
- begeleiding bij huur/verhuur bedrijfspanden (ook deeldiensten)
- begeleiding bij aan-/verkoop van bedrijfspanden (ook deeldiensten)
- taxaties van bedrijfspanden
- locatieonderzoek, inclusief advisering over marktprijzen
- advies/screening koop- huurcontracten
- fiscale taxaties
Wij hopen u binnenkort te ontmoeten.
What we do
Diensten

Taxaties, Verkoop, Aankoop, Verhuur and Advies

Gecertificeerd

NWWI, Vastgoedcert, Taxateurs Unie and NVM
Het Haagje 147,
7902 LE Hoogeveen
Today opened until 17:00, available by phone until 23:00
All contact details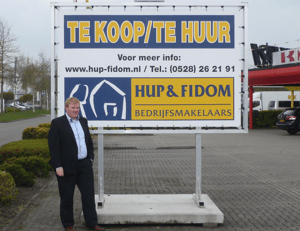 Transactions (past 12 months)
6
commercial properties sold or rented out
0
commercial properties purchased or rented
Sold and rented out
Contact
Visiting address
Het Haagje 147
7902 LE Hoogeveen
Mailing address
Postbus 385
7900 AJ Hoogeveen
Opening hours
Monday

Mon

9:00 - 12:30

, 13:00 - 17:00

Tuesday

Tue

9:00 - 12:30

, 13:00 - 17:00

Wednesday

Wed

9:00 - 12:30

, 13:00 - 17:00

Thursday

Thu

9:00 - 12:30

, 13:00 - 17:00

Friday

Fri

9:00 - 12:30

, 13:00 - 17:00

Saturday

Sat

By appointment

Sunday

Sun

Closed
At this office, you can also make appointments for viewings outside these opening hours.
Calling hours
Monday

Mon

7:00 - 23:00

Tuesday

Tue

7:00 - 23:00

Wednesday

Wed

7:00 - 23:00

Thursday

Thu

7:00 - 23:00

Friday

Fri

7:00 - 23:00

Saturday

Sat

7:00 - 23:00

Sunday

Sun

Unavailable