Vermaas Bedrijfsmakelaardij
Dé full-time bedrijfsmakelaardij in de regio Zuid-Drenthe / Noord-Overijssel
About us
Vermaas Bedrijfsmakelaardij heeft een ruim aanbod van bedrijfspanden, kantoorpanden, showrooms, horeca, kavels en winkelpanden in Hoogeveen en omstreken.
Gedegen vakkennis en jarenlange ervaring, in combinatie met een zeer persoonlijke benadering kenmerken het kantoor.
Het verkopen of verhuren van uw bedrijfsmatig onroerend goed begint met vakkundig positioneren van het object in de markt. Wat zijn de reële waarde en de unieke kenmerken en voor wie is het object interessant? Door een actieve benadering van de markt vinden we zo snel mogelijk potentiële kopers of huurders. In het vervolgtraject onderhandelen we namens u om de best mogelijke resultaten te behalen. De afronding vindt plaats door de juiste vastlegging van de gemaakte afspraken in een koop- of huurovereenkomst. We zijn u graag van dienst bij de begeleiding van het verkoop- of verhuurproces.
Kunt u uw ideale pand niet vinden binnen ons huidige aanbod of weet u nog niet zeker welk pand het beste aansluit bij uw specifieke behoeftes? Dan kunnen wij u ook van dienst zijn in de vorm van een aankoop- of aanhuuropdracht. Alles draait om de juiste atmosfeer en een goede bereikbaarheid en omgeving. Op basis van uw eisen en ons inlevingsvermogen in uw bedrijf, doen wij uitgebreid onderzoek naar de mogelijkheden. Wij begeleiden u bij bezichtigingen, voeren namens u de onderhandeling en zorgen voor een professionele contractuele afwikkeling.
Naast de bemiddeling kunt u Vermaas Bedrijfsmakelaardij ook inschakelen voor het taxeren van uw bedrijfsmatig onroerend goed voor bijvoorbeeld een voorgenomen aankoop of verkoop, (her)financiering, een bedrijfsovername, herbouw of een interne beslissing. Ook voor gezamenlijke taxaties met de belastingdienst of taxaties van woon-werk objecten kunt u bij ons terecht.
We zijn ingeschreven in de kamer Bedrijfsmatig Vastgoed van het NRVT (Nederlands Register Vastgoed Taxateurs) en zijn daarnaast gecertificeerd voor het Taxatie Management Instituut (TMI).
What we do
Website

Https://www.vermaas.nl/

Diensten

Verkoop, aankoop, verhuur, advies and taxaties

Gecertifeerd

NVM makelaar - bedrijfs onroerend goed, register makelaar - taxateur, VastgoedCert and NRVT

Doelgroepen

Alle segmenten
Willemskade 21,
7902 AT Hoogeveen
Today opened until 17:00, available by phone until 17:00
All contact details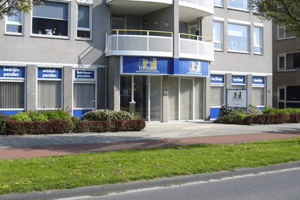 Transactions (past 12 months)
23
commercial properties sold or rented out
0
commercial properties purchased or rented
Sold and rented out
Contact
Visiting and mailing address
Willemskade 21
7902 AT Hoogeveen
Opening hours
Monday

Mon

9:00 - 17:00

Tuesday

Tue

9:00 - 17:00

Wednesday

Wed

9:00 - 17:00

Thursday

Thu

9:00 - 17:00

Friday

Fri

9:00 - 17:00

Saturday

Sat

Closed

Sunday

Sun

Closed
Calling hours
Monday

Mon

9:00 - 17:00

Tuesday

Tue

9:00 - 17:00

Wednesday

Wed

9:00 - 17:00

Thursday

Thu

9:00 - 17:00

Friday

Fri

9:00 - 17:00

Saturday

Sat

Unavailable

Sunday

Sun

Unavailable