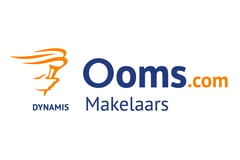 Ooms Makelaars Bedrijfshuisvesting B.V.
De meest ervaren bedrijfsmakelaar en vastgoedadviseur van de regio Rotterdam.
About us
Deskundig, betrokken en recht door zee. Kenmerken van Ooms en onze gecertificeerde bedrijfsmakelaars die de markt in de regio's Groot-Rijnmond, Drechtsteden en Noord-West Brabant als geen ander kennen. Of het nu gaat om de verhuur, aanhuur, verkoop of aankoop. Een bedrijfshal van 3.000 m2 of een winkel van 50 m2. Een kantoorpand in het centrum of een logistiek complex dichtbij uitvalswegen. U bent bij Ooms Makelaars Bedrijfshuisvesting aan het juiste adres bij onze vestigingen in Rotterdam en Dordrecht. Naast dat wij de regio goed kennen, kunnen wij u ook op landelijk niveau van dienst zijn via ons Dynamis-netwerk. Wist u dat we één van de weinige makelaars in bedrijfsmatig onroerend goed zijn met een NVM-business lidmaatschap?

De bedrijfsmakelaars van Ooms doen meer dan alleen maar bemiddelen tussen huurder en verhuurder of koper en verkoper. We zijn ook adviseur van bedrijven en instellingen. Dat doen we in opdracht van een brede klantenkring: van profit tot non-profitorganisaties. Van bedrijven in het MKB tot multinationals. Van eenmanszaken tot particuliere en institutionele beleggers.

We zijn in staat u een totaaloplossing te bieden: u kunt bij Ooms terecht voor expertise op het gebied van taxaties, financieel advies, beleggingen, gebiedsontwikkeling, projectontwikkeling, sale & leaseback en consultancy.

Ooms weet wat er leeft. Dit kunnen we waarmaken door meer dan 90 jaar ervaring. Gecombineerd met een hoog kennisniveau van onze medewerkers binnen een organisatie die klantgerichtheid en efficiency hoog in het vaandel heeft staan: service staat bij ons voorop.
What we do
Specialismen

Zorgvastgoed, winkels, horeca, beleggingen,, taxaties, consultancy and kantoren, bedrijfsruimten, logistiek vastgoed

Website

Www.ooms.com

Lid van

NVM, Dynamis en RICS
Maaskade 113,
3071 NJ Rotterdam
Today opened until 17:30, available by phone until 17:30
All contact details
Transactions (past 12 months)
97
commercial properties sold or rented out
0
commercial properties purchased or rented
Sold and rented out
Contact
Visiting address
Maaskade 113
3071 NJ Rotterdam
Mailing address
Postbus 24040
3007 DA Rotterdam
Opening hours
Monday

Mon

9:00 - 17:30

Tuesday

Tue

9:00 - 17:30

Wednesday

Wed

9:00 - 17:30

Thursday

Thu

9:00 - 17:30

Friday

Fri

9:00 - 17:00

Saturday

Sat

Closed

Sunday

Sun

Closed
At this office, you can also make appointments for viewings outside these opening hours.
Calling hours
Monday

Mon

9:00 - 17:30

Tuesday

Tue

9:00 - 17:30

Wednesday

Wed

9:00 - 17:30

Thursday

Thu

9:00 - 17:30

Friday

Fri

9:00 - 17:00

Saturday

Sat

Unavailable

Sunday

Sun

Unavailable