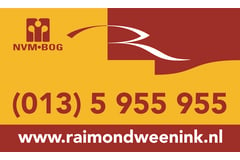 Raimond Weenink Bedrijfsmakelaardij B.V.
Jonge en ambitieuze onderneming op het gebied van het zakelijk vastgoed.
About us
In 2001 heeft Raimond Weenink het kantoor Raimond Weenink Bedrijfsmakelaardij B.V. opgericht met de ambitie de dienstverlening op het gebied van zakelijk vastgoed voor haar opdrachtgevers te professionaliseren. Vanaf 2005 heeft die focus geresulteerd in het marktleiderschap in de regio Midden-Brabant. Ons team is actief voor professionele ontwikkelaars en institutionele beleggingsfondsen, maar ook voor regionale ondernemers en private beleggers. Het marktsegment waarop wij ons richten is middelgrote tot grote bedrijfsobjecten of kantoorgebouwen en A1 retailruimte, met als specialisatie logistiek vastgoed en nieuwbouw ontwikkelingen. Daarnaast zijn wij actief op het gebied van gronduitgifte van kavels en adviseren wij bij de aan- of verkoop van vastgoedbeleggingen.
What we do
Aanbod

Bedrijfspanden, Kantoorpanden, Winkelpanden and Nieuwbouw

diensten

Verkoop en verhuur, Taxaties, aankoop en aanhuur, advies and Beleggingen

Doelgroepen

Professionele ontwikkelaars, institutionele beleggingsfondsen, regionale ondernemers and private beleggers

Lid van

NVM Business and VastgoedCert

Specialisme

Beleggingspanden, Logistiek vastgoed, Middelgrote tot grote bedrijfsgebouwen, A1 winkelobjecten and Nieuwbouw locaties
Docklands 1 c,
5026 SL Tilburg
Today closed, currently not available by phone
All contact details
Reviews
Fijn contact, direct, snel, beschikbaar Initiatief rijk, Ontzorgend Duidelijk en concreet, Gepaste service
Error while loading the page. Please try again.