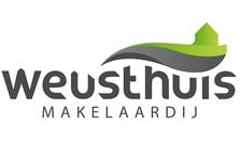 Weusthuis Makelaardij, de NO1 van Noordoost-Twente
Vertrouwen en kwaliteit
About us
Weusthuis Makelaardij is al meer dan 25 jaar een begrip in Twente met vestigingen in Tubbergen, Denekamp, Oldenzaal, Losser en Almelo. U kunt vanuit elke vestiging rekenen op een enthousiast, gepassioneerd en gekwalificeerd team welke op de hoogte is van de ontwikkelingen op de Twentse markt. Zij staan garant voor korte communicatielijnen, een informele, betrokken samenwerking en een grote slagvaardigheid.
Eerlijk, betrouwbaar en betrokken: Om u optimaal van dienst te kunnen zijn leren we u en uw woning graag goed kennen. Wij zijn klantgericht en betrokken. Wij zorgen ervoor dat alles gedaan wordt wat nodig is. Wij zijn er immers om u met raad en daad bij te staan. Wij staan voor een eerlijk en betrouwbaar advies aan onze relaties. Door de nauwe samenwerking tussen de drie vestigingen kunnen we gebruik maken van een breed netwerk aan contacten.
Werkgebied: We werken met een enthousiast team vanuit onze kantoren in Tubbergen, Denekamp, Oldenzaal, Losser en Almelo met uitstekend gekwalificeerde collega's. Allen met een passie voor de vele facetten van de makelaardij en uitgebreide kennis van het werkgebied. Weusthuis Makelaardij is met drie vestigingen actief in Twente. Van de gemeenten Tubbergen, Dinkelland en Oldenzaal, maar ook in de gemeenten Almelo en Losser; onze makelaars kennen deze markt als geen ander.

Aan- en verkoop van:
* bestaande woningbouw
* nieuwbouw
* agrarisch onroerend goed
* bedrijfs onroerend goed
en
* Alle voorkomende taxaties
* Alle aan- en verhuur transacties

Tot onze opdrachtgevers behoren zowel prive- als zakelijke onroerend goed bezitters, maar ook lokale- en grotere overheden, projectontwikkelaars, accountants, geldverstrekkers en woningstichtingen.
What we do
Lid van

NVM, VastgoedCert, NWWI, Nederlandse Vereniging van Makelaars NVM and NVM Business

Specialisme

Bedrijfsmatig onroerend goed, Wonen and Agrarisch

Gecertificeerd

Vastgoed Cert, NRVT, NVM and NWWI

Website

Weusthuismakelaardij.nl

Diensten

Verkoop, verhuur, taxaties en aankoop
Nassaustraat 9,
7651 CX Tubbergen
Today opened until 17:30, available by phone until 17:30
All contact details
Transactions (past 12 months)
22
commercial properties sold or rented out
0
commercial properties purchased or rented
Sold and rented out
Contact
Visiting and mailing address
Nassaustraat 9
7651 CX Tubbergen
Opening hours
Monday

Mon

9:00 - 17:30

Tuesday

Tue

9:00 - 17:30

Wednesday

Wed

9:00 - 17:30

Thursday

Thu

9:00 - 17:30

Friday

Fri

9:00 - 17:30

Saturday

Sat

By appointment

Sunday

Sun

By appointment
At this office, you can also make appointments for viewings outside these opening hours.
Calling hours
Monday

Mon

9:00 - 17:30

Tuesday

Tue

9:00 - 17:30

Wednesday

Wed

9:00 - 17:30

Thursday

Thu

9:00 - 17:30

Friday

Fri

9:00 - 17:30

Saturday

Sat

Unavailable

Sunday

Sun

Unavailable