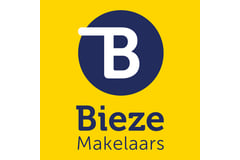 Bieze Makelaars
Uw makelaar voor resultaat!
About us
Welkom bij Bieze Makelaars.
Bieze Makelaars: een begrip in de regio Overijssel en Gelderland. Al sinds 1987 zijn wij als toonaangevend makelaarskantoor actief in deze mooie regio in het midden van het land.
Het team van Bieze Makelaars staat voor persoonlijk contact en betrokkenheid. We denken met u mee in mogelijkheden, niet in beperkingen. Dat mag u ook verwachten van uw NVM-makelaar.
We blijven alert zodat u en wij goed voorbereid zijn op de toekomst. Deskundigheid, stabiliteit en kwaliteit zijn gewaarborgd. Dat is prettig om te weten in deze roerige tijden.
Onbegrensd… in visie, kennis en inzet.
Kansen creëren en benutten. Dat is de kern waar alles in het makelaarsvak om draait. Daarom is Bieze Makelaars steeds weer op zoek naar nieuwe wegen en mogelijkheden in de markt van het onroerend goed, om opdrachtgevers succes te brengen. In de vele jaren dat wij in dit complexe werkveld actief zijn, is verandering de enige constante gebleken. Wij anticiperen hierop door continu met de ontwikkelingen mee te bewegen, en waar mogelijk zetten wij een nieuwe stap eerder dan anderen. Onze ambitie om u optimaal van dienst te zijn, komt tot uiting in een daadkrachtige organisatie. Daarmee kunnen wij meer voor u betekenen dan de traditionele makelaar. Wij zijn raadgever, dienstverlener én belangenbehartiger op het gebied van huisvesting in de ruimste zin van het woord. Of het nu gaat om huizen, bedrijfspanden, projectontwikkeling, second home of agrarisch onroerend goed, taxaties of hypotheken, wij hebben de actuele kennis in huis. Kennis om met u mee te denken. In oplossingen, want de mogelijkheden zijn wat ons betreft onbegrensd. Wilt u meer informatie of een afspraak maken? Wij staan u graag vrijblijvend te woord. Ook buiten kantooruren en in het weekend. Dat vinden wij vanzelfsprekend.
Bieze Makelaars… Onbegrensd!
What we do
Gecertificeerd

NVM, NWWI en VastgoedCert

Website

Www.bieze-makelaars.nl

Diensten

Aankoop, Verkoop, Huur, Verhuur en Taxaties
Transactions (past 12 months)
12
commercial properties sold or rented out
0
commercial properties purchased or rented
Sold and rented out
Contact
Visiting and mailing address
Veilingstraat 22
7391 GM Twello
Opening hours
Monday

Mon

8:30 - 12:30

, 13:30 - 17:30

Tuesday

Tue

8:30 - 12:30

, 13:30 - 17:30

Wednesday

Wed

8:30 - 12:30

, 13:30 - 17:30

Thursday

Thu

8:30 - 12:30

, 13:30 - 17:30

Friday

Fri

8:30 - 12:30

, 13:30 - 17:30

Saturday

Sat

By appointment

Sunday

Sun

Closed
At this office, you can also make appointments for viewings outside these opening hours.