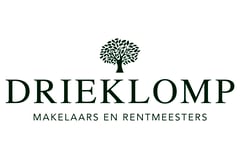 Drieklomp Makelaars en Rentmeesters
Aan- en verkoop, huur en verhuur, taxaties van bedrijfsmatig onroerend goed
About us
Drieklomp heeft aandacht voor het bijzondere; bijzondere woningen, villa's, landhuizen, en boerderijen. Stuk voor stuk exceptioneel door de locatie, geschiedenis, bouwstijl of simpelweg omdat ze een specifiek element bezitten dat een huis bijzonder maakt. Als familiebedrijf is Drieklomp Makelaars al tientallen jaren gespecialiseerd in transacties van wat u Hollands Glorie zou kunnen noemen. Uw onroerend goed, groot of klein, verdient bijzondere aandacht bij taxatie, verkoop of aankoop.
DRIEKLOMP BEDRIJFSMAKELAARS
De zaak. Waar we arbeiden, broeden en beramen. Waar we mijmeren en dan beslissen. Functioneren en dan weer nietsnutten. Waar we fouten opnieuw maken en successen herbeleven. Schaterlachen met de groep of gniffelen in een hoek. De zaak die stimuleert, bemoedigt en prikkelt en eigenlijk voelt als thuis.
De aan- en verkoop van commercieel vastgoed vraagt meer en meer om een strategische benadering. Steeds meer andere zaken spelen een rol bij de aantrekkingskracht en het vermarkten van een bedrijfspand. Drieklomp is gesprekspartner van bedrijven, beleggers en projectontwikkelaars, bijvoorbeeld als het gaat om de structurele veranderingen in de manier waarop we werken en de gevolgen die dat heeft voor bestaande bouw, bijzondere bestaande bouw (kastelen, monumenten) en nieuwbouw.
WIJ ONDERSTEUNEN U
 Bij aan- en verkoop, huur en verhuur van bedrijfsonroerendgoed
 Als sparringpartner en adviseur over markt en ontwikkelingen
 Met advisering over bouwtechnische keuringen, taxaties van (bijzonder) bedrijfsonroerendgoed, fiscaliteit en herinvesteren
What we do
Aanbod

Bedrijfspanden, kantoorpanden, winkelruimten

Diensten

Aan- en verkoop, huur en verhuur and taxaties
Apeldoornsestraat 95,
3781 PM Voorthuizen
Today closed, currently not available by phone
All contact details
Reviews
Zeer tevreden, altijd goed bereikbaar en kennis van zaken. Ook persoonlijk was het goed om met elkaar te praten.
8.8
Sale
In the past 2 years, 1 clients wrote a review about this agent:
9

Knowledge of the local market

9

Expertise

9

Service and support

8

Price/quality
All reviews (

1

)
Transactions (past 12 months)
21
commercial properties sold or rented out
0
commercial properties purchased or rented
Sold and rented out
Contact
Visiting and mailing address
Apeldoornsestraat 95
3781 PM Voorthuizen
Opening hours
Monday

Mon

8:30 - 17:30

Tuesday

Tue

8:30 - 17:30

Wednesday

Wed

8:30 - 17:30

Thursday

Thu

8:30 - 17:30

Friday

Fri

8:30 - 17:00

Saturday

Sat

Closed

Sunday

Sun

Closed
Calling hours
Monday

Mon

8:30 - 17:30

Tuesday

Tue

8:30 - 17:30

Wednesday

Wed

8:30 - 17:30

Thursday

Thu

8:30 - 17:30

Friday

Fri

8:30 - 17:00

Saturday

Sat

Unavailable

Sunday

Sun

Unavailable
Error while loading the page. Please try again.