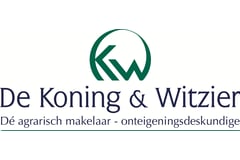 De Koning & Witzier Makelaars
Dé Agrarische makelaar - onteigeningsdeskundige
About us
Lachen als een boer die kiespijn heeft.. Dit spreekwoord komt in onze boeken niet voor. Als opdrachtgever van De Koning & Witzier kunt u met een gerust hart breeduit lachen. Omdat u zich gesteund voelt door objectieve adviezen en deskundige begeleiding in tal van situaties, zoals bij de aan- en verkoop van agrarisch onroerend goed en fosfaatrechten, taxaties, onteigeningszaken, bedrijfsverplaatsing, emigratie etc. Al onze kennis, ervaring en contacten zetten we in om voor u het beste resultaat te bereiken. Dat is waar onze dienstverlening om draait.
Wij begrijpen wat er zich afspeelt in uw bedrijf. Bij De Koning & Witzier staat persoonlijke aandacht en deskundigheid al meer dan 57 jaar voorop, en dat is onze klanten in de agrarische sector niet onbekend gebleven; we hebben een loyale klantenkring.
Wij danken dit aan onze ervaring in uw dagelijkse praktijk. Als geen ander weten we wat voor u belangrijk is, met welke wetten en regelgeving u te maken heeft en voor welke problemen u kunt komen te staan. Dat praat een stuk makkelijker en leidt tot oplossingen die naadloos aansluiten bij uw situatie.
Wat kunnen wij voor u betekenen?
Wij kunnen u begeleiden bij verkoop/aankoop van uw (agrarisch) bedrijf of een onderdeel daar van.
Wij kunnen u begeleiden bij een onteigening omdat uw eigendommen worden opgeeist.
Onze NRVT/ NVM/ REV - register taxateurs verzorgen uw taxatie, zo nodig met NWWI validatie.
Wij kunnen u begeleiden bij een bedrijfsverplaatsing binnen Nederland en over de grenzen (emigratie).
Wilt u vrijblijvend advies met betrekking tot bovenstaande zaken? Neem contact met ons op! Onze makelaars/taxateurs nemen graag de tijd om bij u langs te komen, zodat zij de mogelijkheden met u kunnen bespreken.
Wij zijn iedere werkdag geopend van 8:30 uur tot 17:00 uur.

Graag tot ziens!
What we do
Diensten

Aankoop, Verkoop and Taxatie, Onteigening, Advies

Specialisme:

Landelijk vastgoed, melkveehouders, veehouderijen and woonboerderijen

Doelgroepen

Agrariërs, Beleggers, Buitengebied , Bedrijfsonroerend goed, productierechten and Gemeenten, Provincies, waterschappen, projectontw.

Specialisme

Melkveebedrijven/akkerbouwbedrijven, Onteigeningsbegeleiding, bedrijfsverplaatsing, Verkoop van vrijstaande objecten and Emigratiebegeleiding,
Oosteinde 32,
3466 LB Waarder
Today opened until 17:00, available by phone until 17:00
All contact details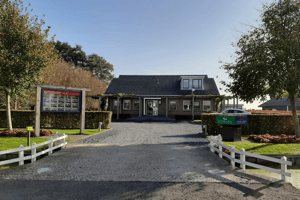 Reviews
het verloop met onze makelaar was heel fijn. We voelden elkaar aan. de gesprekken waren duidelijk en helder. Ook toen de verkoop heel dichtbij kwam en...
88
Sale
In the past 2 years, 1 clients wrote a review about this agent:
9

Knowledge of the local market

9

Expertise

9

Service and support

8

Price/quality
All reviews (

1

)
Transactions (past 12 months)
15
commercial properties sold
0
commercial properties purchased or rented
Sold commercial properties
Contact
Visiting and mailing address
Oosteinde 32
3466 LB Waarder
Opening hours
Monday

Mon

8:30 - 17:00

Tuesday

Tue

8:30 - 17:00

Wednesday

Wed

8:30 - 17:00

Thursday

Thu

8:30 - 17:00

Friday

Fri

8:30 - 17:00

Saturday

Sat

Closed

Sunday

Sun

Closed
At this office, you can also make appointments for viewings outside these opening hours.
Calling hours
Monday

Mon

8:30 - 12:30 , 13:15 - 17:00

Tuesday

Tue

8:30 - 12:30 , 13:15 - 17:00

Wednesday

Wed

8:30 - 12:30 , 13:15 - 17:00

Thursday

Thu

8:30 - 12:30 , 13:15 - 17:00

Friday

Fri

8:30 - 12:30 , 13:15 - 17:00

Saturday

Sat

Unavailable

Sunday

Sun

Unavailable
Error while loading the page. Please try again.