Bruggeman Bedrijfsmakelaardij
Uw specialist op iedere m² bedrijfsruimte!
About us
Sinds de oprichting in 1997 is Bruggeman Bedrijfsmakelaardij een gevestigde naam in de markt. Naast advies, bemiddeling, en taxeren van alle soorten bedrijfsmatig vastgoed hebben wij ons gespecialiseerd in verkoop, verhuur, aankoop en het taxeren van exploitatie-gebonden vastgoed, zoals horeca, bakkers, slagers, bouwmarkten, autobedrijven, etc.
Actief zijn in deze markt is een vak apart. Specifieke kennis van de bedrijfstak, inzicht in het bedrijfseconomisch aspect van de onderneming, landelijk aanbod en relevante contacten zijn hierbij onontbeerlijk. Bovendien vraagt de markt om een discrete en professionele begeleiding, met een heldere en transparante aanpak, iets waar wij al meer dan 23 jaar in uitblinken.
Om onze verkoopdienstverlening hoog te houden, zijn wij aangesloten bij de Nederlandse Vereniging van Makelaars (NVM Business), Horeca Makelaars Nederland en Vastgoedcert.
Naast verkoop en verhuur is ook het taxeren van exploitatie gebonden vastgoed gebonden aan veel regels, wettelijke eisen, etc. Bruggeman Bedrijfsmakelaardij levert taxatierapporten die aan alle eisen voldoen. Onze rapporten worden dan ook door alle (Nederlandse) bankinstellingen geaccepteerd voor bijv. herfinanciering of aankoopfinanciering.
Om deze kwaliteitsrapporten te waarborgen zijn wij aangesloten bij het Nederlands Register voor Taxateurs (NRVT), ingeschreven in de kamers Bedrijfsmatig Vastgoed en Groot Zakelijk Vastgoed; Taxatie Management Instuut (TMI) en The European Group of Valuer's Associations (TEGOVA). Onze taxateur draagt met trots de titels: Register Taxateur (RT) en Recognised Europeon Valeur (REV).
Een heldere transparantie aanpak, advies op maat, kwaliteit en persoonlijk contact?
Neem vrijblijvend contact met ons op en wij helpen u graag.
What we do
Aanbod

Bedrijfsonroerend goed, Bedrijfspanden, Winkelpanden, Horecapanden and Kantoorpanden

Gecertificeerd

NVM, NRVT BV Groot zakelijk vastgoed, TEGoVA REV and TMI

Website

Http://www.bruggemangroep.nl

Specialisme

Horeca, Bedrijfsruimte, Winkelruimte and Recreatie

Diensten

Verkoop, Aankoop, Verhuur, Taxaties and Advies

Lid van

NVM Business
Wilhelminastraat 23,
4424 BB Wemeldinge
Today opened until 17:00, available by phone until 17:00
All contact details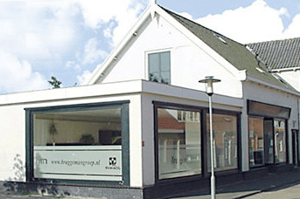 Transactions (past 12 months)
4
commercial properties sold or rented out
0
commercial properties purchased or rented
Sold and rented out
Contact
Visiting address
Wilhelminastraat 23
4424 BB Wemeldinge
Mailing address
Postbus 127
4420 AD Kapelle
Opening hours
Monday

Mon

9:00 - 17:00

Tuesday

Tue

9:00 - 17:00

Wednesday

Wed

9:00 - 17:00

Thursday

Thu

9:00 - 17:00

Friday

Fri

9:00 - 17:00

Saturday

Sat

Closed

Sunday

Sun

Closed
At this office, you can also make appointments for viewings outside these opening hours.
Calling hours
Monday

Mon

9:00 - 17:00

Tuesday

Tue

9:00 - 17:00

Wednesday

Wed

9:00 - 17:00

Thursday

Thu

9:00 - 17:00

Friday

Fri

9:00 - 17:00

Saturday

Sat

Unavailable

Sunday

Sun

Unavailable