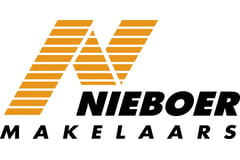 Nieboer Makelaars
De makelaars van Noord-Oost Groningen
About us
Een makelaarskantoor dat actief is op zowel de particuliere als de zakelijke markt in de regio Noordoost-Groningen met vestigingen in Winschoten, Veendam en Appingedam. Dan krijg je te maken met diverse opdrachtgevers, wensen en eisen. Nieboer Makelaars beseft dat als geen ander en adviseert daarom elke klant vanuit haar eigen individuele invalshoek. U, als opdrachtgever, vervult de hoofdrol en is het perspectief van waaruit wij adviseren. Continuïteit is voor u en ons belangrijk, want ons advies moet ook na jaren nog waardevol zijn.

PERSOONLIJK

Makelen betekent bij ons persoonlijk adviseren. Dat doen wij met up-to-date informatie en advisering bij al uw vragen aangaande onroerende zaken. Luisteren naar uw wensen en behoeften, daar besteden wij graag onze tijd aan. Na een zorgvuldige inventarisatie kunnen wij onze expertise vastleggen in een marketingcommunicatieplan voor bijvoorbeeld verkoop, aankoop, huur/verhuur. Natuurlijk taxeren wij ook voor alle Nederlandse geldverstrekkers met een gevalideerd NWWI TaxateursUnie taxatierapport of bedrijfsmatig taxatierapport (PTA-approved).

SINCE 1974

Oorspronkelijk begonnen in Winschoten en later ook gevestigd in Veendam en Appingedam zijn wij zijn uitgegroeid tot een full-service makelaarskantoor. Met onze regionale spreiding van de vestigingen bestrijken wij het grote gebied van de gemeenten Oldambt, Veendam, Appingedam, Delfzijl, Bellingwedde, Vlagtwedde, Pekela, Menterwolde, Slochteren en Loppersum. Samen met ons gemotiveerde team hebben wij in ruim 40 jaar een sterke positie en een analytische expertise opgebouwd in Noordoost-Groningen. Al onze Register Makelaars-taxateurs o.z. zijn gepassioneerd in hun vak, hebben ruime praktijkervaring en een gerenommeerde makelaarsopleiding. Zij volgen jaarlijks vakeducatie en zijn lid van een makelaarsorganisatie. Dat wij al ruim 40 jaar bestaan, is het bewijs van continuïteit en vertrouwen van onze klanten door de jaren heen. Deze ervaring is onze kwalitatieve fundering voor de toekomst.

Wilt u een afspraak maken voor een vrijblijvend gesprek met één van onze Register Makelaars-taxateurs o.z.? Bel 0597-417550 of mail info@nieboer.nl. Tot snel!
What we do
Aanbod

Kantoorpanden, Bedrijfspanden and Winkelpanden

Diensten

Taxaties, Verkoop, Aankoop, Verhuur and Aanhuur
Poortstraat 24,
9671 EB Winschoten
Today closed, currently not available by phone
All contact details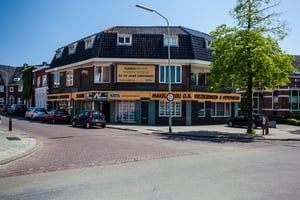 Transactions (past 12 months)
21
commercial properties sold or rented out
0
commercial properties purchased or rented
Sold and rented out
Contact
Visiting and mailing address
Poortstraat 24
9671 EB Winschoten
Opening hours
Monday

Mon

9:00 - 17:30

Tuesday

Tue

9:00 - 17:30

Wednesday

Wed

9:00 - 17:30

Thursday

Thu

9:00 - 17:30

Friday

Fri

9:00 - 17:30

Saturday

Sat

Closed

Sunday

Sun

Closed
Calling hours
Monday

Mon

9:00 - 17:30

Tuesday

Tue

9:00 - 17:30

Wednesday

Wed

9:00 - 17:30

Thursday

Thu

9:00 - 17:30

Friday

Fri

9:00 - 17:30

Saturday

Sat

Unavailable

Sunday

Sun

Unavailable