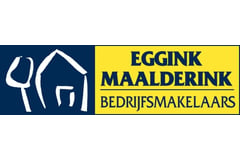 Eggink Maalderink Bedrijfsmakelaars
Uw specialist voor bedrijfsonroerend goed en projectontwikkeling.
About us
Eggink Maalderink is een Gelders/Overijssels NVM makelaarskantoor dat zich onderscheidt door een uitstekende kennis van zaken, al ruim 100 jaar.
Wij geloven in een gedegen en systematische aanpak van ieder vastgoedproject, of het nu gaat om de verkoop of de aankoop (of huur of verhuur) van uw woning of een grootschalig nieuwbouwproject.



Eggink Maalderink heeft 3 vestigingen en is daardoor uw lokale en regionale vastgoedpartner. De nauwe samenwerking tussen onze vestigingen in Midden en Oost Gelderland biedt een direct voordeel: een breed netwerk aan contacten en kopers voor uw pand. Voordeel voor onze relaties door dit netwerk is, dat wij als geen ander op de hoogte zijn van wat er in de regio speelt. Ook kennen we onze klanten en hun individuele behoeften.
Zusterbedrijf Maalderink & Lutke Willink is een autoriteit op het gebied van Agrarisch onroerend goed, waaronder aan- en verkoop en taxaties van agrarische bedrijven, grond, agrarische productierechten en landelijke woonobjecten.
Eggink Maalderink Bedrijfsmakelaars heeft de expertise op allerlei vraagstukken over bedrijfsonroerend goed en projectontwikkeling.
Ons team van gepassioneerde mensen en ervaren makelaar/taxateurs, commerciële binnendienstmedewerkers en rentmeesters staan elke dag met plezier voor u klaar.
Onze kernwaarden:
Passie voor mensen en vastgoed.
Betrouwbaar in afspraken en transparant in belangen.
Betrokken en persoonlijke aandacht voor onze relaties.
Deskundig en bovengemiddelde kennis van ons vakgebied.
Wij zijn u graag van dienst met:
Woningmakelaardij
Agrarische Makelaardij en Rentmeesterkantoor
Bedrijfsmakelaardij
Taxaties van alle soorten vastgoed
Vastgoedmanagement
Vastgoedadviezen, bijvoorbeeld op het gebied van erfpacht, onteigening, etc.
Financiële diensten
Voor meer informatie kijk op www.egginkmaalderink.nl
What we do
Bedrijfsonroerend goed

Kantoren, Winkels, Bedrijfshallen, Bouwkavels

Website

Www.egginkmaalderink.nl

Gecertificeerd

NVM Business, TMI, VastgoedCert and BV register
Lokenstraat 6 - 8,
7201 MP Zutphen
Today closed, available by phone until 17:00
All contact details
Transactions (past 12 months)
19
commercial properties sold or rented out
0
commercial properties purchased or rented
Sold and rented out
Contact
Visiting and mailing address
Lokenstraat 6 - 8
7201 MP Zutphen
Opening hours
Monday

Mon

8:30 - 17:30

Tuesday

Tue

8:30 - 17:30

Wednesday

Wed

8:30 - 17:30

Thursday

Thu

8:30 - 17:30

Friday

Fri

8:30 - 17:30

Saturday

Sat

By appointment

Sunday

Sun

Closed
Calling hours
Monday

Mon

8:00 - 23:00

Tuesday

Tue

8:00 - 23:00

Wednesday

Wed

8:00 - 23:00

Thursday

Thu

8:00 - 23:00

Friday

Fri

8:00 - 23:00

Saturday

Sat

8:00 - 23:00

Sunday

Sun

8:00 - 17:00