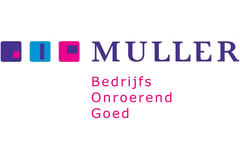 Muller Bedrijfs Onroerend Goed
Wij brengen partijen bij elkaar!
About us
Wij zijn een bedrijfsmakelaarskantoor met ruime ervaring en gedegen kennis van de vastgoedmarkt. Met een team van vijf enthousiaste personen staan wij garant voor een heldere communicatie. Dienstverlening met de juiste kennis van zaken staat bij ons hoog in het vaandel. Met een nuchtere mentaliteit, betrokkenheid én resultaatgerichte aanpak staan wij met beide voeten in de markt. Dit maakt ons specialist binnen ons vakgebied.
Wij zijn trots op ons netwerk dat zich kenmerkt door een grote diversiteit aan opdrachtgevers en relaties. Hierdoor zijn wij breed geïnformeerd en kunnen wij snel en accuraat handelen. Dit leidt tot het beste resultaat.
Nieuwsgierig? Neem dan contact met ons op, wij zijn u graag van dienst!

Onze diensten:
Verhuur en aanhuur van bedrijfsmatig vastgoed
Verkoop en aankoop van bedrijfsmatig vastgoed en beleggingen
Taxeren van bedrijfsmatig vastgoed
Bemiddeling bij sale en leaseback
Huurcontractonderhandeling
Begeleiding bij (her-)huisvesting
What we do
Lid van

VastgoedPRO, RealNext, VastgoedCert, NRVT and Funda in business

Diensten

Taxaties, Verhuur / Aanhuur, Verkoop / Aankoop, Beleggingen and Begeleiding

Website

Www.mullerbog.nl

Telefoon

038-4237111
VastgoedPRO real estate agent
Today closed, currently not available by phone
All contact details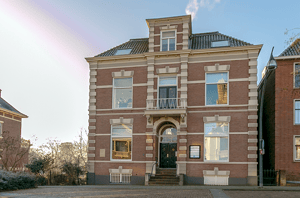 Contact
Visiting address
Eekwal 3
8011 LA Zwolle
Mailing address
Postbus 61
8000 AB Zwolle
Opening hours
Monday

Mon

9:00 - 17:30

Tuesday

Tue

9:00 - 17:30

Wednesday

Wed

9:00 - 17:30

Thursday

Thu

9:00 - 17:30

Friday

Fri

9:00 - 17:30

Saturday

Sat

Closed

Sunday

Sun

Closed
At this office, you can also make appointments for viewings outside these opening hours.
Calling hours
Monday

Mon

9:00 - 17:30

Tuesday

Tue

9:00 - 17:30

Wednesday

Wed

9:00 - 17:30

Thursday

Thu

9:00 - 17:30

Friday

Fri

9:00 - 17:30

Saturday

Sat

Unavailable

Sunday

Sun

Unavailable