Taurusavenue
2132 Hoofddorp
Prijs n.o.t.k.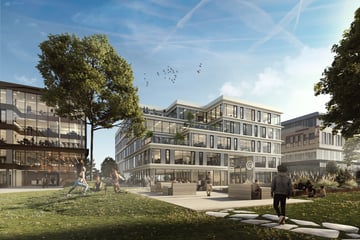 Omschrijving
Park 20|20 in Hoofddorp is the world's first Cradle to Cradle optimized business park. Strategically positioned with Schiphol in the immediate vicinity and Amsterdam just a stone throw away. Park 20|20 combines innovative architecture with sustainability and advanced, ecological design. People are at the heart of Park 20|20. The result is an inspiring working environment where health and productivity are in balance. Park 20|20 is already home to both national and international companies, such as: L'Oréal Netherlands, Sony Benelux, Bluewater Energy Services, Bosch / Siemens and FIFPro. But Park 20|20 is not yet complete and is ready for a final expansion:

A special complex is still in development called 'The Campus'. On behalf of VolkerWessels, G&S Vastgoed will realize five office buildings consisting of approximately 37,000 square meters office space. The Chinese Feng Shui philosophy is key to the concept of the five buildings of The Campus. Feng Shui uses the five elements Water, Wood, Earth, Metal and Fire to create harmony between people and their environment. Each building has its own identity but still creates a synergy.

Both The Campus and Park 20|20 offer an abundance of greenery to boost health and well-being, productivity, and performance. Sustainability is key at The Campus. All five buildings will be certified with a BREEAM Excellent certificate. Natural and recycled materials are optimally used, and the roofs will be covered with solar panels for sustainable energy consumption. This makes the buildings both sustainable and future-proof. The Campus is a place where people can meet one another, work, and relax by enjoying its green surroundings.

The Campus can be your new office!

Please find below an overview of the size of the different buildings:

- Water: 6,613 sq. m. LFA
- Fire: 6,756 sq. m. LFA
- Wood: 9,857 sq. m. LFA
- Metal: 7,687 sq. m. LFA
- Earth: 6,333 sq. m. LFA

The Campus will be realized in several phases starting with the construction of the buildings
Water & Fire.

Water
The dynamics of water are essential to the design of this building. The corner of the building symbolizes a waterfall where the "water" can fall from terrace to terrace. The terraces create a pleasant outdoor space where one always looks out over the square from a different perspective.
In addition, the atrium located in the center of Water provides a large amount of extra daylight.
The Water element can easily be implemented in the building's hardware materials and interior. Blue tones and calming elements such as an indoor waterfall, provide an optimal working environment.

Water will contain approximately 6,613 sq. m. LFA in total, divided over five floors:
- GF: 1,227 sq. m. LFA
- 1st floor: 1,386 sq. m. LFA
- 2nd floor: 1,384 sq. m. LFA
- 3rd floor: 1,333 sq. m. LFA
- 4th floor: 1,283 sq. m. LFA

Fire
Fire represents heat, energy, and change. Fire responds to circumstances and burns for as long as it is fed. This reminds us of the need to take care of our own fuel: healthy materials, affluent green and optimum air quality. With its warm colors, the building lights up when it catches the sun's rays. The shiny panels reflect light in all directions, creating the sensation of a glowing fire. It creates a warm and inviting entrance and façade. The building will be characterized by two large atria. The first large glass atrium not only creates a connection with the adjacent Campus garden but also with the surrounding buildings. The second atrium provides a three stories high winter garden that provides extra daylight and room for a quick break from work.

Fire will contain approximately 6,756 sq. m. LFA, divided over four floors:
- GF: 1,801 sq. m. LFA
- 1st floor: 1,673 sq. m. LFA
- 2nd floor: 1,641 sq. m. LFA
- 3rd floor: 1,641 sq. m. LFA

Location Hoofddorp
Hoofddorp is growing and flourishing. The strategic position and easy accessibility make it a popular location for companies that are ready for the future. The business facilities are top-notch, but the additional amenities are also alluring: with adjacent cafés, restaurants, hotels, sports facilities and even childcare make The Campus a total concept for future-proof companies.

Accessibility
The Campus is located right next to the Hoofddorp NS railway station, where various regional bus lines are also connected. Schiphol Airport can be reached by train within 4 minutes, Amsterdam Central within 20 minutes, Utrecht Central within 40 minutes, and Rotterdam Central within 60 minutes.

The Campus is also easily accessible by car. Due to many adjacent highways, cities such as Haarlem, Amsterdam, Utrecht, The Hague, and Rotterdam are easy to visit.

Parking facilities
To maintain the green character of The Campus, parking takes place in the underground parking garage of Park 20I20. The applicable parking ratio is 1:70. It is also possible to rent additional parking spaces in the public car park, directly next to Park 20|20. This parking garage has a total capacity of 408 parking places.

Rent price: To be determined.

Lease term: 10 years.
Kenmerken
Overdracht
Huurprijs

Huurprijs nader overeen te komen

Servicekosten

Geen servicekosten bekend

Aangeboden sinds

4 maanden

Status

Beschikbaar

Aanvaarding

In overleg
Bouw
Hoofdfunctie

Kantoor

Soort bouw

Bestaande bouw

Bouwjaar

Na 2020
Oppervlakten
Oppervlakte

13.369 m² (in units vanaf 2.000 m²)
Indeling
Aantal bouwlagen

4 bouwlagen
Energie
Energielabel

Niet beschikbaar